Enterprises around the world in a variety of industry verticals are deploying 3GPP-based private networks to gain the advantages of improved capacity and coverage, greater control and on-premise data security, and better predictability and more reliable performance.
Demand for private mobile networks based on 4G LTE and 5G technologies is being driven by the spiraling data, security,
digitization and mobility needs of enterprises and governments. Organizations of all types are combining connected systems with
big data and analytics to transform operations, increase automation and efficiency or deliver new services. Wireless networking
with LTE or 5G enables these transformations even in the most dynamic, remote or highly secure environments, offering the scale
benefits of a technology that has already been deployed worldwide. MFA is pleased to share highlights from the Private Mobile Networks report, developed quarterly by our industry liaison partner, GSA.
Click here to download the 4Q22 Private Mobile Networks: Quarterly Report Highlights.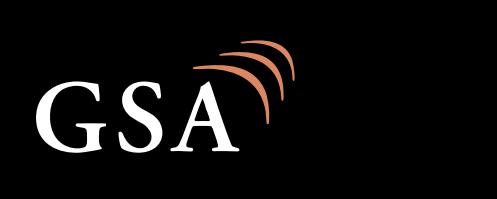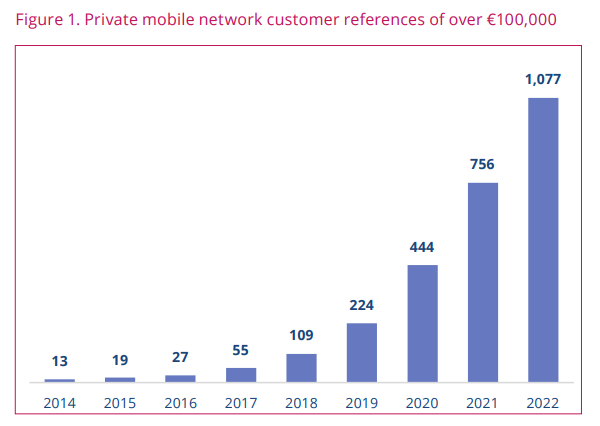 Private Network Applications
Manufacturing

Today, manufacturers rely on a diverse mix of wired and wireless network technologies for factory automation, but they are excited about the opportunity to leverage the Ultra-Reliable Low Latency Communications (URLLC) and Time-Sensitive Networking (TSN) capabilities in 5G to address the deterministic transfer of data in industrial use cases in a cable-free environment. In highly automated manufacturing environments, a single millisecond latency will likely be needed to maintain ultra-reliability, up to 99.9999% for advanced manufacturing. A dedicated licensed or local spectrum will be essential in meeting the high URLLC performance expectations.

While 5G promises high bandwidth capacity, lower latency, and massive IoT connections, the deterministic link capability is the most exciting part. Keeping uptimes high is crucial in any manufacturing process.

Key applications for the Manufacturing segment include:

Connected manufacturing robots
Autonomous guided vehicles (AGVs)
4G video and machine vision for quality control
Augmented reality (AR) goggles for remote diagnostics and inspection
AR/VR to gain access to expert resources during troubleshooting
Reconfigurable manufacturing workflows
Distribution & Logistics

The world is embracing e-commerce. According to United Nations, e-commerce grew 3% year-over-year to 19% of all retail sales in 2020, and it grew even more during COVID. Warehousing and logistics are in demand as the sector has become a critical aspect of the e-commerce supply chain. Efficient flow management of warehouse and logistics can be a competitive differentiator for an e-commerce retailer, and logistics companies are grappling with reducing delivery time. Moreover, retailers are demanding transparency in the supply chain. The industry is employing digitization and automation to expedite the flow of goods within warehouses to meet these growing demands.

Key applications for the Distribution and Logistics segment include:

Automated flow management employing video surveillance cameras for security access, material handling, and inventory management
Autonomous guided vehicles within the warehouse to transport goods from the unloading dock to the warehouse for inventory control and management
5G advanced indoor positioning features, along with sensors attached to packages and machines, to enable the logistics company to track the locations of assets
Geofencing to determine when a tagged device enters or leaves a particular area to track key assets
Oil & Gas

The Oil and Gas industry is undergoing a digital transformation journey to improve operational efficiency and worker safety. In addition, the industry is under immense pressure to reduce its carbon footprint. As the industry migrates toward renewable energy like wind and solar, oil and gas will remain significant energy sources for the world for many years to come. Digitalization will play a key role in empowering energy companies to extract and process this vital commodity more efficiently. The goals of digital transformation projects are improving operational efficiency and keeping workers safe.

Key applications for the Oil & Gas segment include:

Voice and data communication system for workers in remote locations for worker safety and retention
Communication links to family members for worker retention for employees who often spend months offshore or in remote sites
Mission-critical push-to-talk (MCPTT) or push-to-video (MCPTx) services to improve productivity through group calls, video sharing, geo-location, and other advanced services
Video monitoring and intelligent video surveillance systems to control security access
Remote monitoring of environmental sensors for gas leakage detection to prevent potentially fatal accidents; Alert information from the sensors can be integrated with actuators to stop leakage for accident prevention
Asset tracking and geo-location of assets dispersed across remote oil rigs to provide the centralized operations center visibility of critical assets
Visibility to support predictive maintenance of critical equipment to reduce unplanned downtime
Digital twin technology to replicate physical assets
Connected industrial robots to handle repetitive tasks in hazardous environments, including drones equipped with video and other environmental sensors to monitor plant facilities for quality control and inspection
Mining

Mining is a key industrial sector of the global economy. Annual mining production has almost doubled to 20 billion metric tons over the past 35 years, according to World Mining Data 2021. The demand for rare minerals and other raw materials is increasing as many industries undergo transformative shifts, e.g., electrification in the automotive sector. With growing demand, the Mining sector has been investing in new technologies to help improve operational efficiency and meet regulatory requirements to protect workers. For decades, private wireless networks have been vital aspects of mining operations in remote surface and underground mines. However, the old methods of voice dispatching and SCADA systems to transmit terminal data back to centralized servers in a hub are no longer viable in today's advanced mines, which require a real-time response for full autonomy, i.e., remote operation of minefields.

Top mining companies are moving towards full autonomy, leveraging private wireless networks to connect, monitor, and automate dispersed minefield operations. Two primary objectives drive IMT applications found in this sector: worker safety and operational efficiency.Key applications for the Mining segment include:

Backhaul for video traffic data for remote monitoring
Real-time monitoring of environmental sensors, such as ventilation systems in underground mines
Remote control of drilling rigs and autonomous vehicles, such as unmanned hauling trucks
Unmanned drones and video-equipped robots to inspect mines
Simplified communication platforms for personal voice calls and emergency communication systems with a private LTE/5G network
Utilities

Major electrical, water, and gas utilities are at the cusp of grid modernization projects. As critical infrastructure providers, utilities prefer to own and operate a fully private network and amortize the upfront capital expenditure over 20+ years. Utilities are beholden to very stringent disaster recovery requirements for their communication networks. For instance, if the power goes off during a natural disaster, the utility wide area network (WAN) is expected to remain operational for days – not a few hours. Hence, utilities don't want to be "tied down" to an operator's network, which typically has less stringent requirements.

Legacy utility communication networks are built on narrowband technologies put in place many decades ago. One of the drivers of WAN modernization based on private LTE and 5G is to tap into the broad cellular ecosystem and consolidate legacy wireless systems. In addition, with distributed renewable energy sources from solar panels on rooftops to neighborhood solar farms coming online, modern grid systems must adapt to how and where energy is sourced and distributed. By investing in next-generation grid networks, utilities can consolidate multiple disparate wireless technologies and support smart metering and other revenue-generating opportunities like smart city applications, such as smart lighting and municipal smart lighting.

Key applications for the Utilities segment include:

Intelligent instrumentation of the distribution assets at substations to improve the reliability of power delivery from generation to the distribution grid and ultimately to customer locations
Smart metering and control applications to make the distribution grid more intelligent
Remote monitoring to measure electricity consumption and provide granular data on the status of the distribution grid, e.g., outage detection, in near real-time
High voltage transformer protection: with sub-10 millisecond latency, a high-voltage transformer protection application may be possible using a private 5G network
Shipping Ports and Airports

Major transportation hubs like airports and shipping ports are like small cities with different types of communication needs and use cases. Operating multiple networks in a shared environment like airports and ports can be costly for port operators to maintain. Therefore, operators seek a new system to simplify and offer reliable and secure wireless networking services to handle mission-critical operations and to improve operational efficiency with more robust cyber security.

Key applications for the Airports segment include:

Improved aircraft turnaround time through seamless ticketing, baggage handling, de-icing, flight diagnostic downloads, real-time updates to ground crews, ticketing agents, security personnel, etc.

Key applications for the Shipping Ports segment include:

Remote control of crane operations, container trucks, and other heavy machinery. With real-time video streaming and analytics, a crane operator may be able to operate multiple lifts and cranes situated at an operations center. As a result, remote operations can increase productivity, save labor costs, and improve worker safety.
Real-time video surveillance to maintain port security
Real-time video surveillance with computer vision to maintain security control and access
Real-time video for handling heavy machineries, such as cranes and unmanned container trucks, in remote command and control operations.
Drone inspection of port operations
Video-mounted cranes and containers tagged with sensors to track containers to help locate goods (within containers) in ports.
Increased visibility of the supply chain to logistics and trucking companies and end customers
Agriculture

With a global population of almost 8 billion, there is a greater demand for food. In the current environment where agricultural land use per capita is decreasing, the future of farming is "precision agriculture" – i.e., producing more with less. It is all about making farming smart. Amidst the growing strain on natural resources, empowering farmers with smart tools to maximize food production while minimizing the land and water usage is critical.

Key applications for the Agriculture segment include:

Farming equipment, such as tractors and IoT sensors for irrigation systems and others, needs to be connected and work in unison for situational awareness of the entire farming and livestock operations.
Remote monitoring of IoT sensors to check water quality, soil conditions, weather, and other environmental conditions to help determine when to plant, water, and harvest.
Autonomous farming vehicles, such as connected tractors and trucks, for planting and transporting crops. For example, with improved 5G positioning, autonomous tractors can plant seeds with better precision for higher crop yields.
Video-equipped drones can be employed to monitor the vast farmland and livestock remotely.
Wide-area private cellular networks in rural farms to enable voice and data communication among farmworkers in the field and distribution partners.